Transform how you serve your customers with Get Smart CXI
Stay connected with your customers and keep your finger on the pulse of your business with our Customer Experience Insights benchmarking programme. You'll have the confidence to know what they are thinking and the information you need to succeed and thrive in these rapidly-changing times.
Get Smart CXI gives you access to personalised, branded surveys, as well as the opportunity to compare your results with others in your sector. Identify areas for improvement and implement solutions with confidence.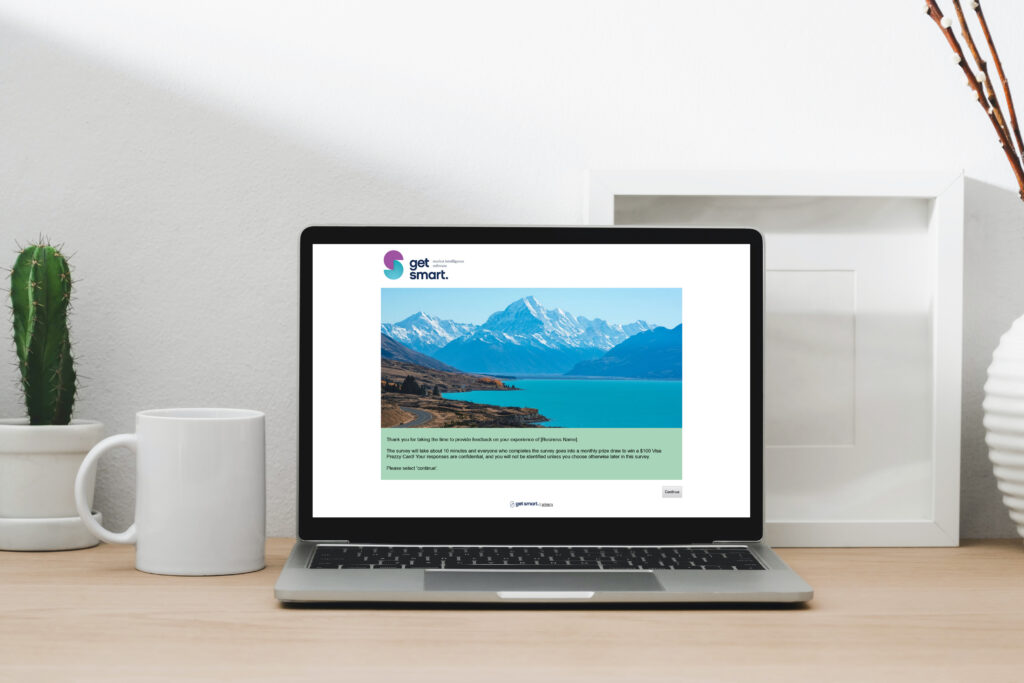 The CXI Base Package includes:
Professional, custom-branded surveys
We incorporate your branding to make your survey truely yours, including logo, colours and fonts.
Your choice of questions from our library
Our research library of professionally developed questions covers all the bases of customer experience research to ensure you get the best quality and most actionable data.
Online survey link and QR code
Your unique survey link can be added to any digital communications to give people fast and easy access to your online survey. Use a QR code on printed material so customers can access the survey quickly from their mobile devices.
Instant answer alerts
Customisable alerts to ensure you get an instant notification when someone gives a certain response to particular questions, allowing you to take action promptly.
Regular reporting
We provide a weekly summary report and monthly deep dive report to keep you up to date with how your customers are feeling.
Benchmarking
See at a glance how your customer experience score stacks up against other businesses in your sector.
Unlimited responses
There's no restriction on how many people can complete your survey.
Automated prize draws
This optional feature can be a great encourager for people to complete your survey, and it's managed completely automatically.
Automated thank-you emails
Customise an automated email response to thank people for participating and encourage them to engage with your company again.
On top of the Base Package we offer a range of extensions to give you added functionality.
Custom Reports
Need a special report not covered by our standard weekly and monthly reporting? We can design and build you a custom report to give you the data you need, when you need it.
Reporting Portal Access
Direct access to the Get Smart reporting portal to analyse data and create your own reports. Includes 2 hours of training for you and your team members.
Gather Responses via Email Invitations
Send branded survey emails and gather responses automatically via the Get Smart system, with unique links for each survey participant.
Upload customer databases through the Get Smart portal.
Collect customer contact details via weblink and QR code, then automatically send the survey invitation.
Optional, automated reminder emails.
Unique survey links allow customers to come back to finish their response and enable you to control how often individual customers get your survey.
Systems Integration via API
Trigger survey invitations straight from your internal databases.
Pull data from Get Smart into your CRM or own analysis and reporting tools automatically.
Multiple Locations
Does your business operate from multiple sites or locations? CXI can be customised to cater for your business structure.
Custom Designed Questions
We can take your specific data goals and craft unique questions that fit perfectly within the survey's flow.
Use our package builder to get an estimated cost per month, then chat with one of our friendly team to tailor the perfect CXI system for your business.
Starting with the CXI Base Package, choose your Extensions below to create the perfect CXI solution for your needs. Some Extensions vary in price depending on your requirements so click the button to request a call from one of our team members. You'll save 10% if you choose to pay annually.